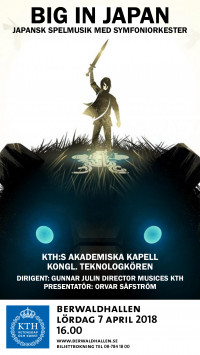 The 7th of April, Kongl. Teknologkören and KTH's orchestra KTH:s Akademiska Kapell will sing and play japanese video game music in the consert Big in Japan! In the concert you will hear music from classic platformers such as Sonic the Hedgehog and MegaMan, modern masterpieces like Shadow of the Colossus and The Last Guardian, and of course the acclaimed RPGs Final Fantasy, Secret of Mana, Suikoden, and more.
KTH:s Akademiska Kapell
Kongl. Teknologkören
Conductor: Gunnar Julin, Director Musices KTH
Presenter: Orvar Säfström
Tickets are available at Berwaldhallen's webpage.
Time:

Place: