Christmas concert
Published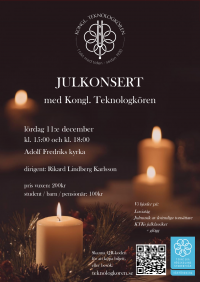 It's beginning to smell a lot like christmas, and this is cause for celebration! Kongl. Teknologkören will host a concert filled with our unquenched hunger for christmas and lucia.
The concert will feature a traditional swedish "luciatåg", a large selection of pieces written by modern female composers and the grandest finish you will have heard since our last christmas concert 2019.
So come, come to Adolf Fredriks kyrka, drink some mulled wine and enjoy this joyous occasion, and the music of Kongl. Teknologkören led by Rikard Lindberg Karlsson!
Tickets can be purchased at Billetto or at the entrance (card only).
Time:

Saturday the 11th of December, 3 p.m. and 6 p.m.

Place: