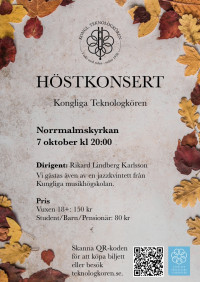 Teknologkören has for many months been stagnant and we're super excited to finally get to have a concert again. We will start off the new semester with an autumn concert filled with the melancholic cries from our socially deprived hearts.
And to celebrate our coming together we've also hired a Jazz-quintett from the Royal College of Music lead by Amanda Sandorov that will take place beside us on stage and make the music of autumn.
We really hope that you feel like coming, we will sing in French, Danish, English and of course Swedish so there's something for everyone in this concert.
Conductor: Rikard Lindberg Karlsson
Jazz quintet:
Amanda Sandorov - song
Olle Lannér Risenfors - bass
Richard Andersson Rasheed - drums
Johannes Annfält - piano
Erik Hasselfeldt - alto saxophone
Tickets are available at the entreance, or at Billetto.
Adult: 150 SEK
Student/Senior/Child (17 and younger): 80 SEK
Time:

Place: