Kongl. Teknologkörens julkonsert
Published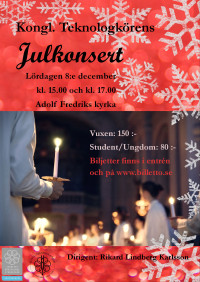 When the darkness of December has entered, Kongl. Teknologkören invites you to Christmas concert in Adolf Fredriks church. Experience traditional christmas music and Lucia procession Saturday the 8th of December.
There will be two concerts, one at 15:00 and one at 17:00.
Tickets may be purchased at the entrence or at billetto.se.
Adults: 150 kr
Student/Youth: 80 kr
Welcome!
Time:

Place: